| | |
| --- | --- |
| Brand | BenQ |
| Display type | DLP |
| Item dimensions LxWxH | 150 x 5 x 5 centimeters |
| Mounting type | Tabletop Mount |
| Wattage | 50 watts |
| Item weight | 2.5 Kilograms |
| Maximum image size | 150 Inches |
| Light source wattage | 240 Watts |
| Hardware interface | VGA, 1/4-inch Audio |
---
About this item
MX560

Country of origin:- China

Item Package Quantity: 1

Model Number: 9H.JNE77.13E
Experience Pure Clarity with Finest Crystal Glasse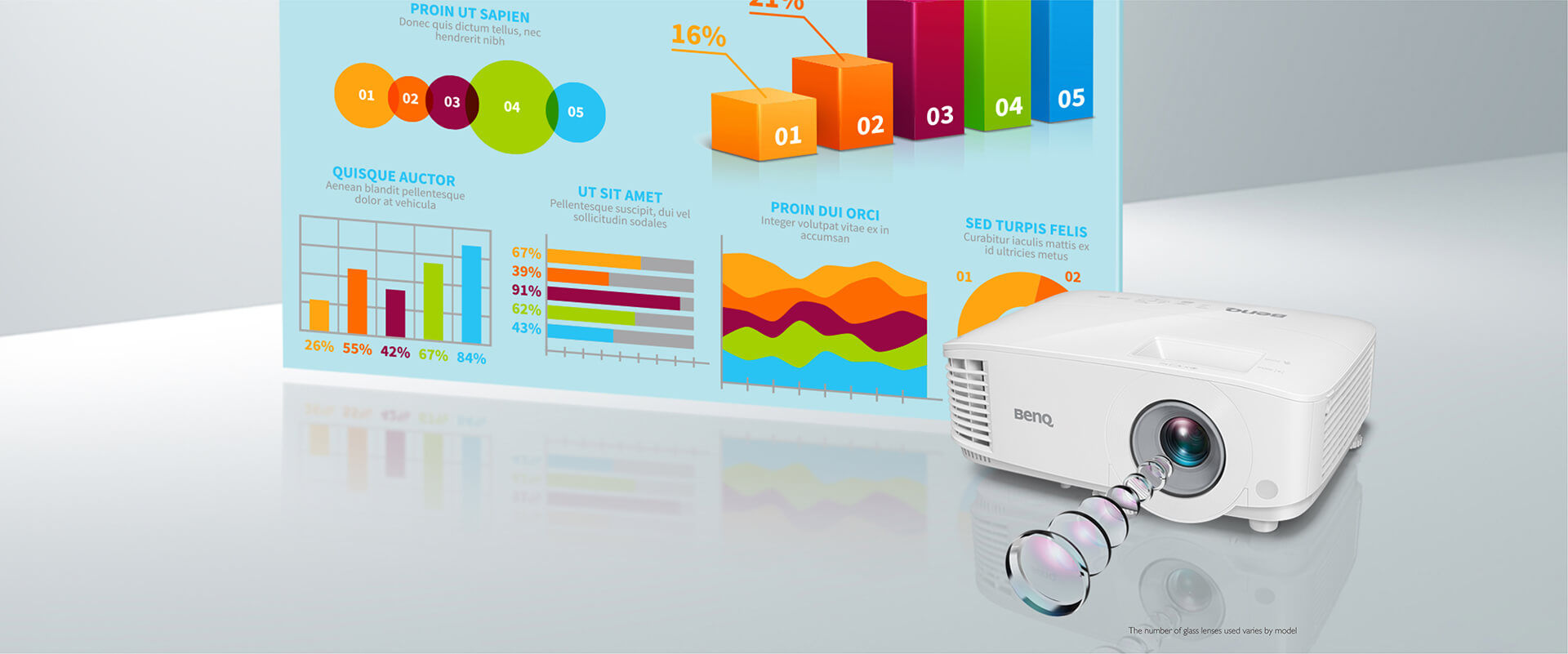 Entering the Era of Digital Transformation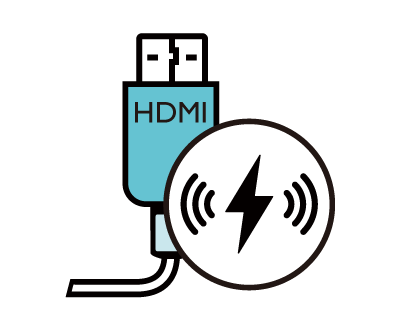 HDMI for Fast Transmission
HDMI connectivity provides faster data transmission to digital devices
Dual Connectivity,
Dual Convenience
Dual HDMI offers more flexible connectivity between devices
Automatically turns on the projector once the HDMI input signal is detected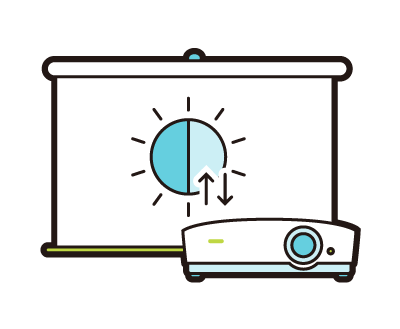 4000 Lumens,
20000: 1 Contrast
High brightness & contrast images even in well-lit meeting rooms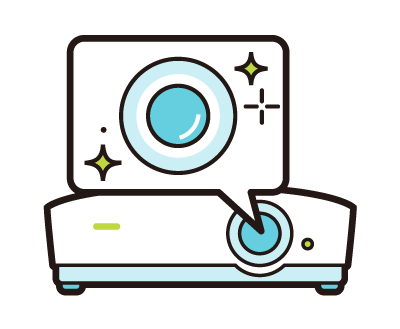 All glass lenses for image quality in brilliant clarity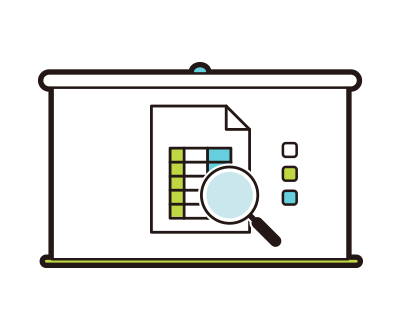 Data Review Mode makes every letter and digit leap to the eye with clarity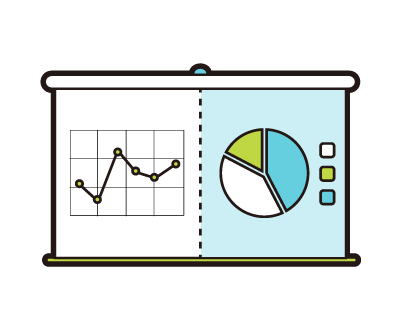 Exclusive Infographic Mode showcases the text and graphics in detail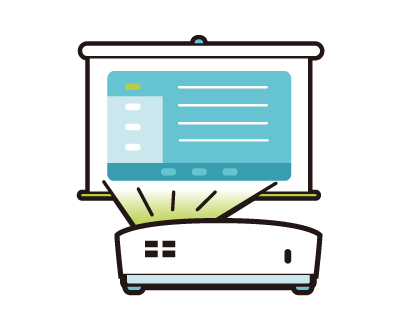 Intuitive windows design to display the contents clearly
Auto Vertical Keystone for Perfect Alignment
Project the image from any angle and get the perfect squared image with Auto Vertical Keystone. It's to quick to eliminate the blurry images and get to the point in the meeting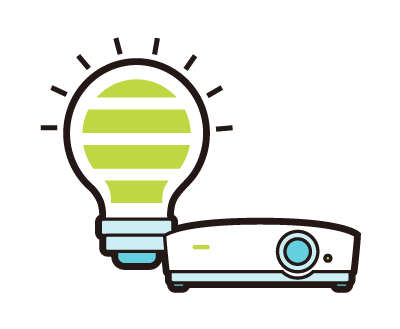 Lamp Life up to 15,000 hrs
SmartEco Mode saves lamp power up to 70%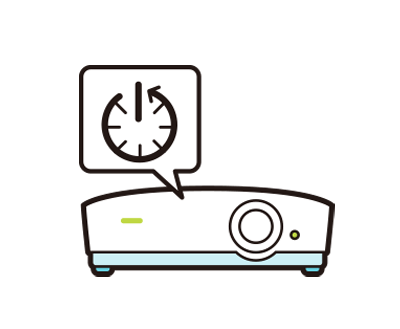 Power-Saving, Energy-Saving
Auto Power Off shuts itself off for power savings after the projector detects no input signal for 20 minutes. (This can be also operated via the OSD)
Ergonomic retractable foot for easy setup
Turn on the projector again within 90 secs after power off and you can start it up in no time
Kensington Lock for physical security to discourage theft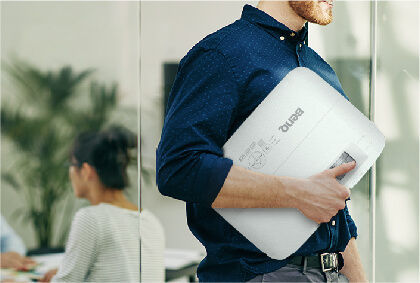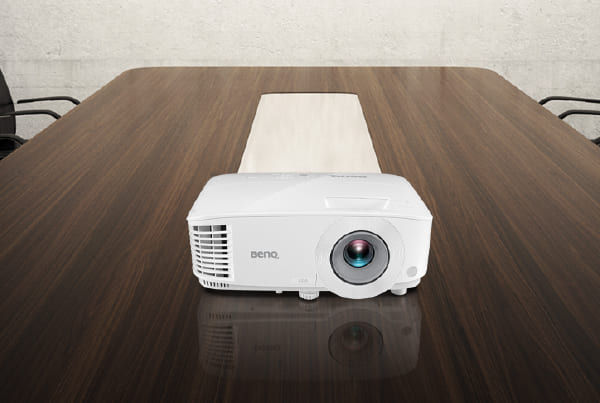 Long-Term Fixed Point Placement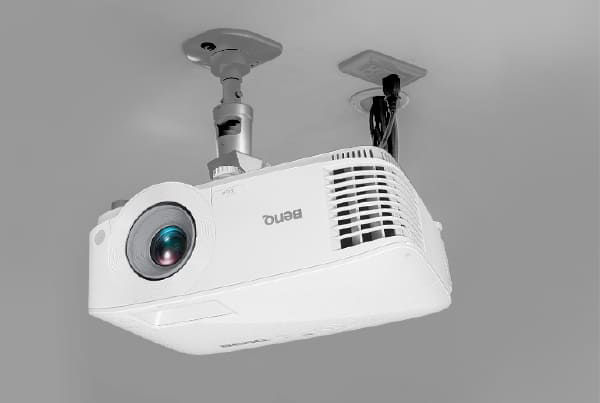 All-in-One Solution that Solves It All
No more fuzzy texts and figures
Perfect Combination of Stunning Clarity and Crafted Colors
Finest Precision Glass Lenses for Crystal-Sharp Clarity
BenQ only uses high-quality glass lenses to minimize chromatic aberration, ensuring long-term image quality in brilliant clarity.
Exclusive Color Craft Calibrated to Suit Your Needs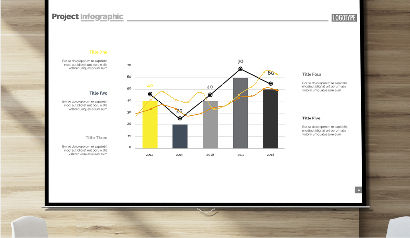 Designed for presentations with vivid colors. In this mode, the brightness is emphasized to match PC and notebook coloring.
Great for showcasing the text and graphics of infographic in detail thanks to the high brightness and better color gradation.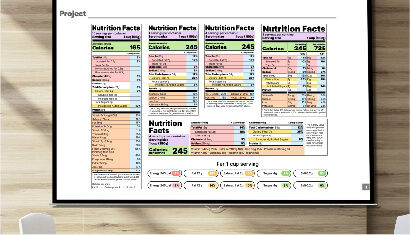 Review your reports with Data Review Mode. Its emphasized contrast and clarity speed up your meeting and strategy-making process
No more embarrassing waits
Start Meeting in a Blink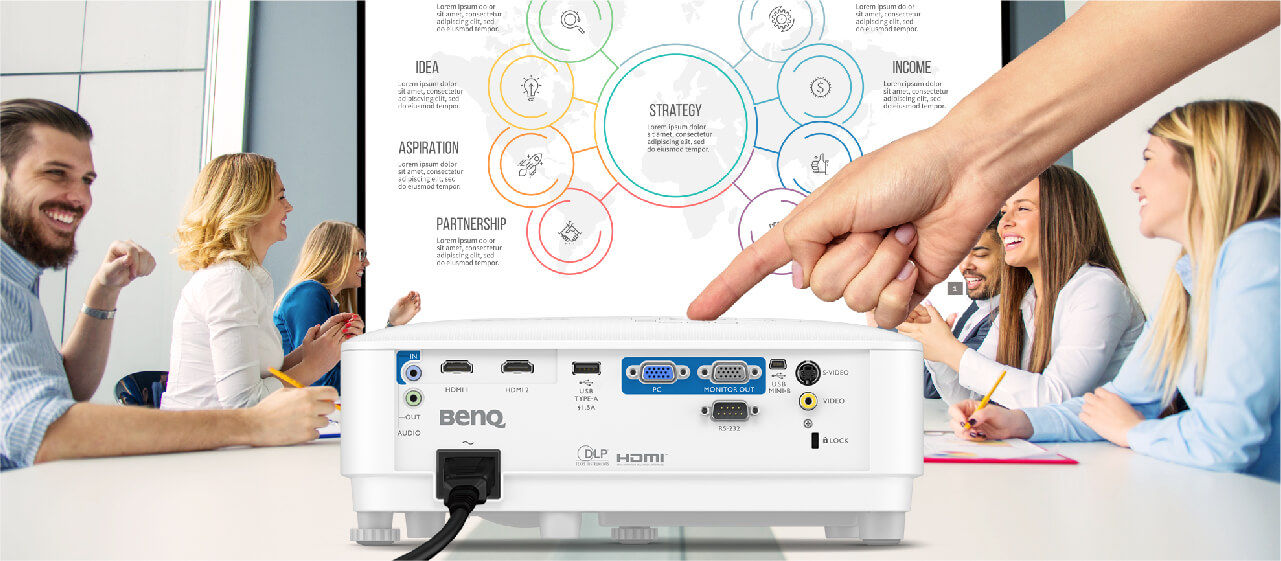 Retractable Adjustment Foot
Far superior to projectors with only one adjustment foot, the triple adjustment feet, including a retractable foot, enhance flexibility in a wide variety of meeting rooms.
Auto Vertical Keystone for Perfect Alignment
Project the image from any angle and get the perfect squared image with Auto Vertical Keystone. It's to quick to eliminate the blurry images and get to the point in the meeting.
Automatically turns on the projector once the HDMI input signal is detected
Turn on the projector again within 90 secs after power off and you can start it up in no time
No more irritating maintenance and energy waste
Save Power, Save Manpower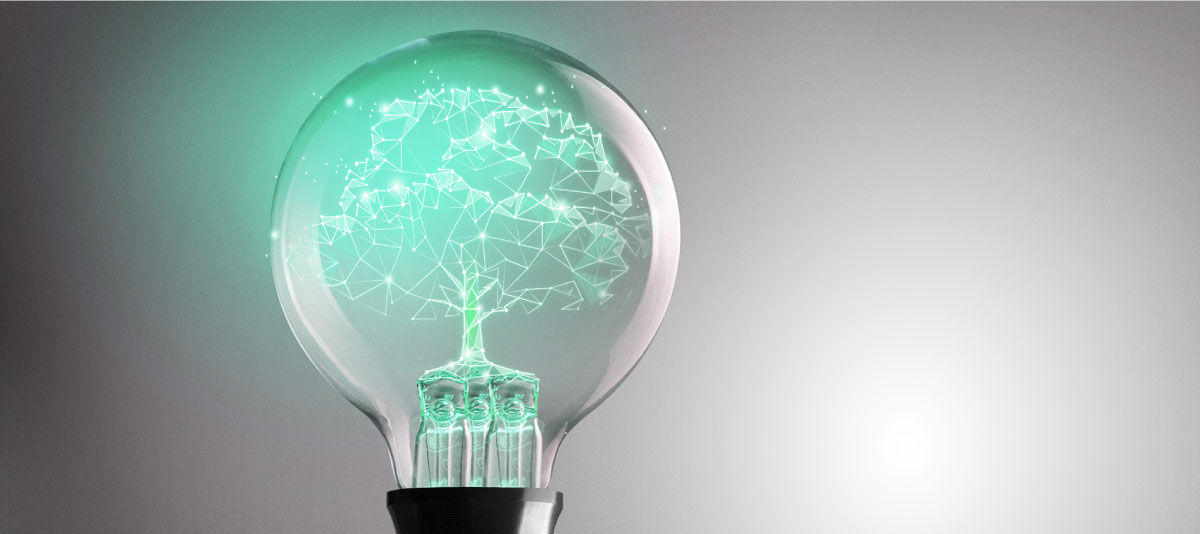 Designed to secure tabletop projectors, the Kensington lock interface provides "physical" security.
Anti-Dust Accumulation Sensor
Rejects dust accumulation, enhancing device durability and hence reducing maintenance costs.
Conserving up to 70% of lamp power for a lamp life of up to 15,000 hrs.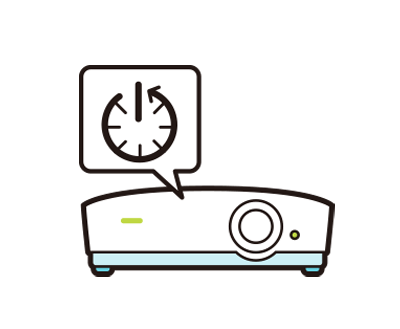 Power-Saving, Energy-Saving
Auto Power Off shuts itself off for power savings after the projector detects no input signal for 20 minutes. (This can be also operated via the OSD)
Details that Make a Difference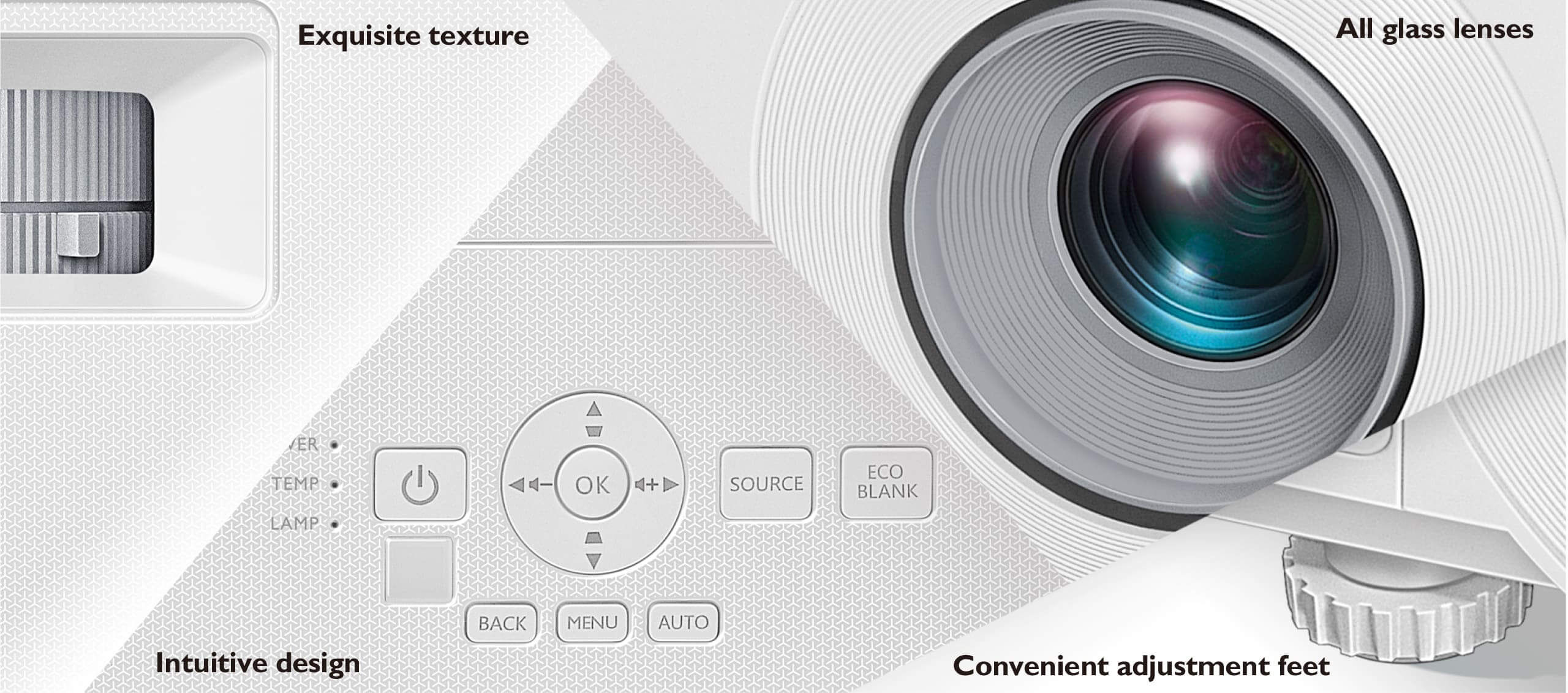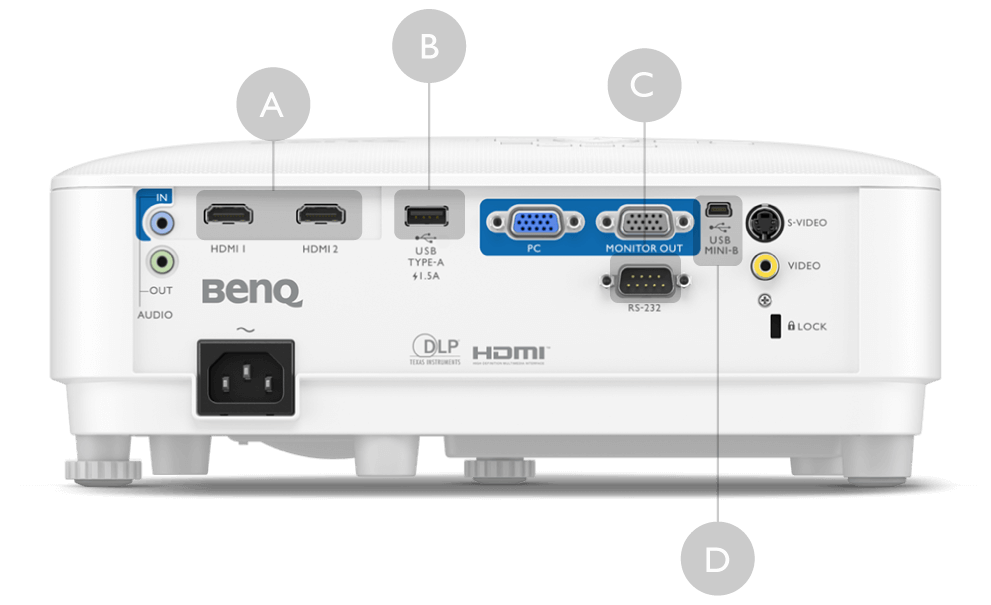 A. HDMI*2
(High definition and fast transmission)
B. USB Type-A
(Charge your smartphone and tablet any time / For optional dongle support)
C.
 

RS-232

(Deliver central command to projectors)
D. USB Mini-B
(Easy connection to upgrade firmware)
 •  Remote Control w/ Battery
 •  Power Cord
 • 
 

Quick Start Guide
 •  Warranty Card (by region)
 •  VGA Cable
Innovation
Our UPS and with USB Ports , a lighting system and digital thermometer inside out server cabinets.
Warranty
We trust our product very much so we provide our customers with 2 years warranty on ur products
Powerful
Long-life batteries , cables and power strip made from cooper and certified un refurbished steel
Service
Our support is not stoppable even after the warranty expire we will help you in any future problems.
Our Story
Systemmax was an idea that Combine two of the most important values that the Egyptian market need ,Hight quality and good price .
Through the years we were the trusted dependable brand that companies rely on and we plan to keep it that way.
Contact us
Aya Ameen
01001497766
aya.ameen@eaegy.net

Fatmah.abdallah
01000047961
fatmah.abdallah@eaegy.net

info@system-max.com